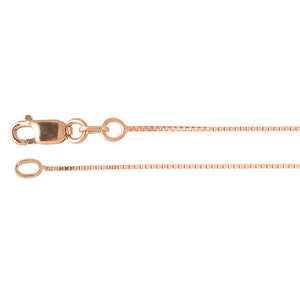 14K Rose Gold 0.6mm Box Chain
Metal type : Gold
Karat : 14K
Weight : 1.456 g (0.051ounces) for 16 inch chain

This 14-karat rose gold box chain presents a warm, rosy color, and the box style gives this lightweight chain a bit of extra strength, making it ideal for pairing with small pendants, charms, and drops. Box chain has squared-off links that resemble cubes.

Fine chain is delicate and should be treated with due care to help prevent breakage.