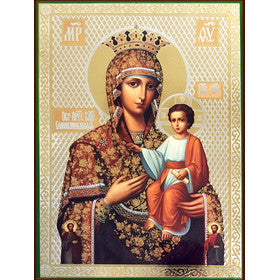 Mother of God and the Christ Child With Physicians Cosmas and Damian Russian - Sofrino Large Size Russian Silk Icon - MPOV
Size`~ 6.75 x 8.25 inches mounted on wood. Imported from Russia and shipped from USA.
Sofrino is the  art and production company of the Russian Orthodox Church. These icons are so beautiful! The images I have on the website can not capture that beauty. They are much much more beautiful in person. They are a layered silkscreen of beautiful colors, then embellished with foil in gold and silver color. Enjoy!