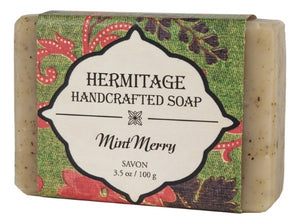 Mint Merry Bar Soap - Handcrafted Olive Oil Castile - Monastery Craft
Perfect 3.5 oz  hand size bar. Gentle on the skin: made from Olive oil and pure essential oils.
A refreshing, all-natural blend of peppermint, lavender and rosemary essential oils.
Only available during the Christmas Nativity Season. Tip: order a lot and keep it in a zip lock bag to preserve fragrance, so you can enjoy year round.