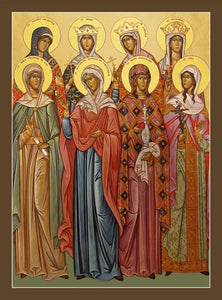 the Choir of Holy Mothers - Saint M and Saint W collection
High quality color print ~ 8 x 10 inches mounted on wood.
Top (left to right): Saint Juliana of Lazarevo, Saint Irene the Greatmartyr, Saint Barbara the Greatmartyr, & Saint Alexandra of Rome.
Bottom (left to right): Righteous Anna the Forebearer of Christ, Righteous Elizabeth the mother of the Forerunner, St. Mary Magdalene, & Saint Nina of Georgia.