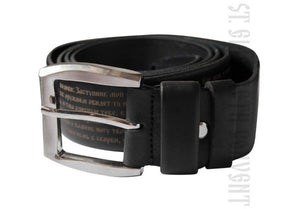 Handcrafted Black Leather Belt with Slavonic Orthodox Prayers - Various sizes available - Leathercraft
A monastery crafted Black Leather belt for men. Width 3.5cm (1.38 inches) Length 97-125cm ( 38.19 - 49.21 inches)
The front part of the belt has two prayers: Prayer to the Guardian Angel and Psalm 90 in Slavonic not English.
Imported, please allow 4 weeks for delivery.
Mens Belt Size Chart
General Belt Size
Numerical Belt Size
Waist Measurement (inches)
Length of Belt
(inches)
XS
30
26.5-28
28-30
S
32
28.5-30
31-32
M
34
30.5-32
33-34
M
36
32.5-34
35-36
L
38
34.5-36
37-38
L
40
36.5-38
39-40
XL
42
38.5-40
41-42
XL
44
40.5-42
43-44
2XL
46
42.5-44
45-46
3XL
48
44.5-46
47-48
4XL
50
46.5-48
49-50
Finding the right belt size is however often tricky, and confusing. It's always mistaken to be the same size as the waist although it's not. Before shopping for belt size, especially if you're buying online, it is important to understand first how belt sizes work.
The most common mistake that people make when buying a belt is using the pants waist size as the belt size, which is two different things – the belt size is not the same as your pants size.
In this guide, we've created a comprehensive discussion on everything you need to know about belts. How to measure belt size, types of belts, and belt size chart for both men and women. We've also included tips and tricks to identify your belt size. Use our belt size chart after doing manual measurements to determine your belt size easier.
How Do Belt Sizes Work?

Your belt size is not the same as your waist size or even your pants size. The belt size, as a general rule, is measured from the end of the belt buckle to the hole in the middle of the usually five-hole belt. Remember that the belt size usually excludes the measurement of the buckle.
In the US, belt sizes use inches, while most European countries measure the belt size in centimeters. The belt size is stamped at the back and commonly labeled 32, 34, 36, 38, etc for the American sizing standard.
Belts usually have five holes, and it is sized to the measurement of the middle hole.
Remember: To determine the perfect belt size for you, find a belt that is 2-3 inches larger than your pants size since belts are used around the pants and not the waist.
Mens belt size is easier to determine than that for womens in general. If you have an existing belt, but you're unsure what the size is, you can just opt to measure it correctly to see the right size. Then you can pick the size closest to that measurement as your belt size. Mens belt sizes are usually labeled in inches, although some brands are offering even-number sizing which can sometimes be a little limiting. Men with very tiny or very broad waists will find it difficult to easily find the right belt size in off-the-rack shops, which mostly sells generally sized belts.