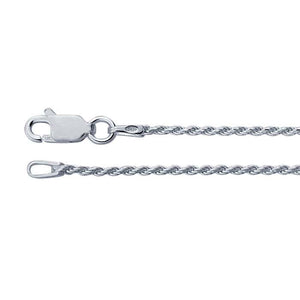 Sterling Silver 1.35mm Diamond-Cut Rope Chain - Sterling Silver Chain
Metal type : Sterling silver
Purity : .925
Weight : 3.11 g (0.11ounces)

This sterling silver rope chain offers diamond-cut links that give it added depth and shine, making it a great foundation for pendants, drops and dangles. This chain is plated with fine silver to ensure a bright white color and to help protect against tarnish.





Rope chain features twisted links that are each connected to two other links in a continuous row. The twist causes the chain to create a spiraled effect similar to the woven fibers of a rope. Diamond-cut versions have facets precision-cut into the links with diamond-tipped tools. The facets are then polished to enhance the light-reflecting properties of the link surfaces.