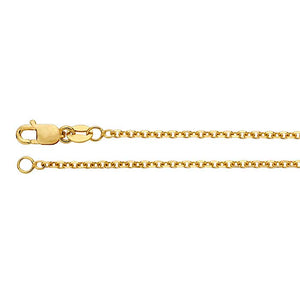 14K Yellow Gold 1.5mm Beveled Oval Cable Chains - Gold Chain
Metal type : Gold
Karat : 14K
Weight : 2.3 g (0.081ounces) for 16 inch chain

The links of his 14-karat yellow gold cable chain feature an attractive beveled edge that gives the chain a subtle added dimension—this is a versatile chain that is ideal for pendants and drops. The most common chain style, cable chains are formed by simply connecting single links perpendicularly end to end. Links may be round, oval or other shapes—this chain has oval links. Beveled-edge chain features links that are cut to create angled edges rather than the usual rounded profile.