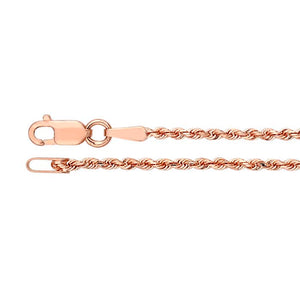 14K Rose Gold 1.5mm Diamond-Cut Rope Chain
Metal type : Gold
Karat : 14K
Weight : 3.5 g (0.124ounces) for 18 inch chain

Diamond cuts on this 14-karat rose gold rope chain give it added depth and shine, making it an elegant complement to pendants, drops and dangles.





Rope chain features twisted links that are each connected to two other links in a continuous row. The twist causes the chain to create a spiraled effect, similar to the woven fibers of a rope. Diamond-cut versions have facets precision-cut into the links with diamond-tipped tools. The facets are then polished to enhance the light-reflecting properties of the link surfaces.