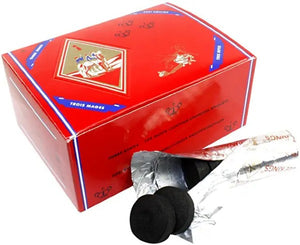 THREE KINGS 40MM Charcoal Box: of 100
THREE KINGS 40MM (~1.57 inches) Charcoal Box: of 100 - 1 Box
This Three Kings charcoal comes in a box of ten 40mm rolls with 10 pieces each equaling 100 pieces.

These are Quick Light shisha coals for Orthodox incense burners that can be lit with a torch lighter or open flame.

25-35 minutes of burn time per coal.

Instant lighting of your coals.

Three Kings manufactures their instant lighting charcoal product in Holland.