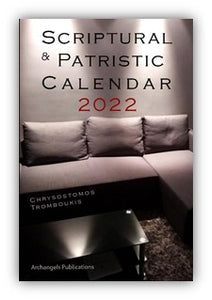 2022 Scriptural and Patristic Calendar by Chrysostomos Tromboukis
2022 Scriptural and Patristic Calendar_Book trailer https://youtu.be/WOv2GOROwgY
374 pages English text
Be inspired by a fresh, unique Bible verse and a Church Father's comment each day of the year. This edition of the inspirational 2022 Scriptural and Patristic Calendar features selections from Church Fathers with a commentary on a passage from the Scripture that will help you connect with God and make your day richer and more meaningful. These wise words and inspirational gems on a broad array of topics can draw you closer to God and bring more joy to your life.
I consider it extremely helpful not only for scholars but also for those priests and pastors who battle the weekly grind of sermon prep. The calendar is fully referenced for those who want to delve further into the research of any topic mentioned therein.
What's inside?
Lines for recording your important date reminders and or journal entries.
Major saints and feast days traditionally celebrated in Orthodox Christian countries around the world are listed.
There are 6" x 9" pages for each day of the year, with a calendar section, a section with major saints and feast days in the top right corner, a section containing a selection from a Church Father with a commentary on a passage from the Scripture in the middle, and footnotes below.
Smaller Size, Same Big Impact — Make a statement with limited space! This smaller desk calendar is designed to fit perfectly in all sorts of places! With a 6x9" size, the desk calendar is perfect for display on desks, counter tops, shelves, nightstands, dressers and dorm rooms!
Give the Gift of Daily Inspiration — An ideal thank you, birthday, holiday or housewarming gift that anyone would appreciate! They'll think of you every time they change the calendar page!
Note: this calendar uses dates according to the New Calendar.