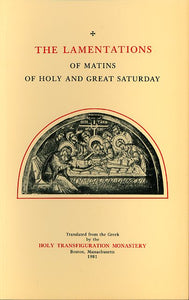 Lamentations of Matins of Holy and Great Saturday - Service book
Translated from the Greek by the Holy Transfiguration Monastery. 1981.
Sewn paperback. 58 pages.
The Lamentations, chanted before the epitaphios on Friday night in Holy Week, are some of the most moving hymns of the Orthodox Church. These have been translated to fit the three traditional Greek melodies, which are also included here, transcribed into Western music notation. The book includes a homily on Holy Saturday by Saint Epiphanius of Cyprus.