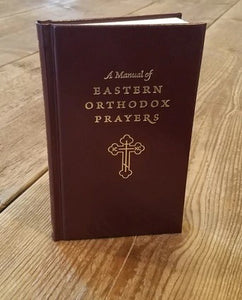 A Manual of Eastern Orthodox Prayers - Hardcover - Prayer Book
Size: 4x6.5
Pages: 128  Hardback
This classic little prayer book has served generations of Orthodox believers. First appearing in 1945 in Great Britain, it has been used widely by English-speaking Orthodox in America and abroad and has been reprinted countless times. St Vladimir's Seminary Press is proud to make the Manual available in a handsome, conveniently-sized hardcover edition.
This edition features:
a foreword by Fr Alexander Schmemann;

explanatory notes by Nicolas Zernov; 

morning and evening prayers;

prayers for different occasions; 

anthems and hymns for greater feasts and saints' days; 

the Order of Confession (both Greek and Slavonic uses);

prayers before and after receiving Holy Communion;

and a concise calendar of the Eastern Orthodox Church.
[The publishing of A Manual of Eastern Orthodox Prayers] constitutes one of the major events in the history of Orthodox translation into English. The Archbishop of Thyatira, Germanos, wrote in his foreword to the first edition that '...the reader finds in this book a true mirror of the Orthodox Christian spirit, rendering all the characteristics of the Orthodox worship. —Fr Alexander Schmemann, from the foreword