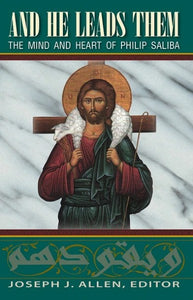 And He Leads Them: The Mind and Heart of Philip Saliba - Christian Life - Book
Metropolitan Philip Saliba is known as a visionary, pastor, and man of fearless determination. This book offers a diverse collection of his speeches, homilies, and poems. This volume includes the Metropolitan's vision for Orthodoxy in America, his thoughts on evangelism, the role of women in the church, the priesthood, and other issues that are vital to America in the 21st century. These selections especially focus on Metropolitan Philip's consistent commitment and desire for Orthodox unity here in North America. Within the chapters of the book, the mind and heart of Metropolitan Philip are revealed, and the reader is introduced to him in his various roles of administrator, philanthropist, church builder, and father / pastor to his flock. 
The book was published and edited on the occasion of the thirty-fifth anniversary of the episcopate of Metropolitan Philip Saliba.
Paperback - 459 Pages